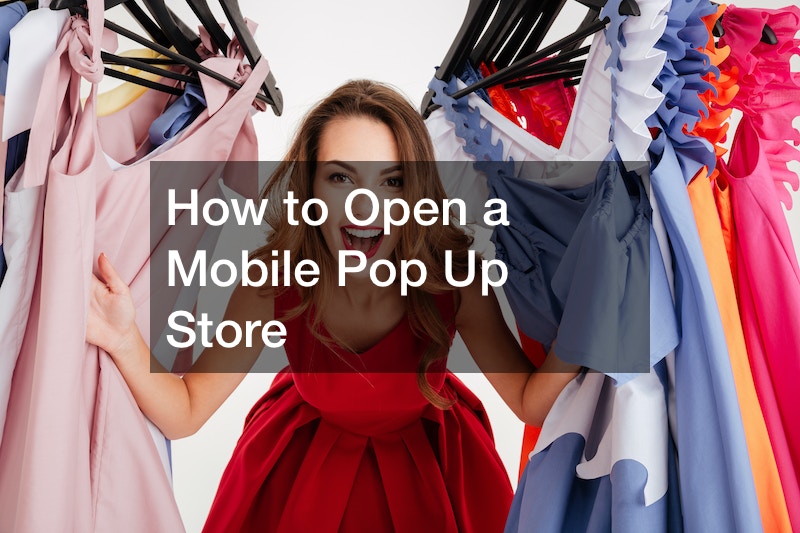 Building a successful business requires more than a vision and a desire to succeed. In order to appeal to your target audience, you will need to present your products or services in an attractive, visually appealing manner. One of the ways that entrepreneurs are helping their business ventures stand out today is by starting their very own mobile pop up stores. Mobile pop up stores are not only accessible to just about everyone, but they also offer an affordable, eye-catching business model that is sure to draw attention.
What is a Mobile Pop Up Store?
A mobile pop up store is a portable storefront that can be moved from one location to the next in order to promote and sell goods. Typically, mobile pop up storefronts are themed to align with the brand that is being promoted or the product that is being sold. Mobile pop up stores may have a unique design, custom lights, individualized signage, and many more amenities that cannot be found when walking into a traditional storefront.
Mobile pop up stores are becoming increasingly popular in just about all industries today. From high fashion to kitschy one-of-a-kind products, there is no shortage of usage when it comes to mobile pop up setups and retail stores today. Investing in a mobile storefront can pay off in both the short and long-term.
Types of Mobile Pop Up Stores
There are many different types of mobile pop up stores available, depending on your location and when the pop up stores are being promoted to the public. From wig shops that offer unique styles to custom jewelers that provide specialized engagement rings, there are many different mobile pop up shops around different cities and regions in the country. Mobile pop up stores also exist to promote larger, already successful brands. The idea of a pop up store is that it can be presented just about anywhere, providing much more reach for those who want to appeal to as many prospective customers as possible.
How to Operate a Mobile Pop Up Store
In most instances, building and launching a mobile pop up store is much easier than acquiring the funds necessary to invest in a tradiitonal commercial storefront. Learning how to operate a local mobile pop up storefront requires a basic understanding of business principles as well as the laws, regulations, and restrictions that may be in place in your current city or location. Research the laws that are currently in effect to determine what type of licensing you will need to obtain in order to begin selling products or services with your own mobile pop up storefront.
After you have permission and the proper licensing to begin operating your own mobile storefront, you will also need to consider the logistics that will go into the creation of the storefront and the materials you will require. Making connections with local service providers is highly recommended whenever you are starting a new business, even if you are doing so with a mobile storefront.
From working with waste collectors to using a roll off dumpster rental to minimize waste and trash near your pop up store, solidifying local connections is key for long-term success in any market or industry. When you have established a good rapport with local service providers near you, it is much easier to reach out to them for help when you need them most, even in the case of an emergency involving your business and pop up store.
Benefits of Portability
One of the most appealing aspects of opening a mobile pop up store is the portability of mobile storefronts. Building a unique pop up store is a way for you to do so with wheels and other modes of transportation in mind. With the right design, you can easily transport your pop up store from one location to the next without damaging the structural integrity of the storefront itself.
Most pop up stores that are mobile include wheels and the ability to close up various exposed areas of the storefront itself. This makes the transition process from one location or corner to the next a breeze. The right design can help you to streamline the process of setting up, selling, shutting down, and moving to the next location in which you wish to sell.
Amenities of a Mobile Pop Up Store
If you are thinking of building a mobile pop up storefront of your own, it's important to consider the type of amenities you will be providing to passersby and customers. The amenities of a pop up store can help it to stand out, garnering more attention and ultimately, resulting in more leads and sales. If you want to help your own mobile pop up storefront to stand out, consider implementing a portable air conditioning system for the surrounding area of your shop. This will especially stand out to those walking by during the hottest summer months. Providing passersby with a small area to cool off can also encourage them to learn more about your business and brand and what it has to offer.
Another way to help draw attention to your mobile pop up storefront is to consider using a portable restroom service next to your shop itself. Working with a portable restroom rental company is highly recommended when you intend to set up shop in one corner or in one location for an extended period of time, such as an entire day. Before setting up an additional portable restroom, be sure to verify that you have permission to do so based on the location you select to sell and promote your goods on your mobile storefront.
How to Create a Pop Up of Your Own
Whether you have dreams of opening your own unique bed shop or you have guitars for sale that you want to promote locally, you can do so with a mobile pop up storefront of your own. Creating a mobile pop up storefront is not difficult, but it does require becoming familiar with local laws, restrictions, licensing, and various tools you will need.
You will need to first determine what you intend to sell or promote, whether you will be showcasing an individual product or your entire brand. Having a high-quality logo, color scheme, and overall design aesthetic will help you to determine what type of exterior, signage, and decor you will use to bring your pop up store together.
Using Storage Containers for Pop Up Stores
One unique method to consider when setting up the design of your pop up store is to use portable storage containers. Portable storage containers are not only made using lightweight material, but they are designed to be waterproof, making an ideal exterior for any type of mobile pop up storefront you envision. You can use portable storage containers as the base of your pop up store, providing you with a blank canvas for additional paint, materials, and decor.
Why Mobile Pop Up Stores Are Trending
Mobile pop up stores are continuing to trend and are not showing signs of slowing down any time soon. The reasons why some mobile pop up stores are trending vary, based on industry as well as the brand's overall goals and objectives.
Cost Effective
One of the most obvious reasons why mobile pop up stores are trending is that they are extremely cost-effective. Even those who are new to business or entering a space for the very first time have an opportunity to stand out and leave a lasting impression with the right mobile pop up storefront presentation. Mobile storefronts are affordable and can be developed on nearly any budget. They can also provide a great ROI, especially if you are able to generate sales shortly after building your mobile storefront.
Experimental Retail Opportunities
Because mobile pop up stores are so cost-effective, they provide the perfect opportunity for experimental retail opportunities. Whether you want to try promoting your brand in a new and unique way or if you are launching a product that you are not sure will perform well on the open market, you can experiment with a mobile storefront. Using your mobile pop up storefront as a means to experiment is a great way to learn more about how those in your community view and interpret your brand and the products you have for sale.
Expand Online Presence
Many online brands are turning to the use of mobile pop up storefronts to help with expanding their online reach into local areas and in the real world. Because millions of new brands around the globe are exclusively available online, it can be challenging at times for those brands to maximize their reach offline. With the use of mobile pop up shops, it is now easier than ever for online brands to go after the local recognition they are seeking. Having a mobile pop up storefront is a way to spread the word about a brand while making those in a nearby area more familiar with a particular product or business name itself.
Host Events
When you have your very own mobile pop up shop, you can also use the storefront as an opportunity to host local events. Mobile pop up shops make an ideal location for various events such as hosting live performers or promoting local artists, depending on the surrounding culture in your town or city. You can also take your mobile pop up storefront to various events to promote your business and brand to those in your community in person.
Tips on Marketing
When it comes to building and launching a successful mobile pop up shop, you will need to know the ins and outs of marketing popup storefronts, both online and locally. Whether your pop up shop is designed to sell fresh foods or if you have a specific product from a larger brand that you are promoting, marketing any mobile pop up storefront is key to finding success.
Consider Your Audience
Before getting started with any mobile pop up storefront endeavor, it's important to consider the audience you intend to reach based on the products or services you will be promoting. When you know the demographics you want to appeal to, selecting the decor, color schemes, and overall them will be much easier once it comes time to design and market your pop up shop.
Decorate Your Pop Up Store Effectively
For the best local promotion possible, decorating your pop up store effectively is key. Using LED signage, marquees, large format graphics, and uniquely printed exteriors for your pop up shop can all help your storefront to stand out, even in a busy city.
Connect With Local Business Owners
Whenever possible, connect and network with other local business owners who have retail space in the areas you intend to promote your own goods. Offering cross-promotional opportunities can also help you to develop working relationships with other entrepreneurs in your city or town.
Develop Your Online Presence
If you haven't already started to do so, develop an online presence for your mobile pop up shop. Create an official website for your business and brand if you do not already have one. Use various networks such as Facebook, Twitter, Tiktok, and Pinterest to create brand-related pages for your mobile pop up shop. Having a social media presence is also essential when you want to boost your visibility online with any type of mobile popup shop.
Update your website, newsletter, and social media pages regularly. Share relevant, useful, and interesting content with your visitors and online followers. Engage with followers by answering questions and responding to inquiries publicly. Building a brand is not something that typically occurs overnight. Instead, you will need to commit to connecting with followers, customers, and even potential business contacts regularly to maintain success once you begin selling at your mobile pop up shop or promoting your pop up storefront online.
Creating a mobile pop up store of your own is a great way to boost brand visibility while simultaneously putting your company on the map. Whether you are launching a brand-new business or if you are looking for ways to promote an existing shop you already own, launching your own mobile pop up store is one strategy that is sure to deliver results.