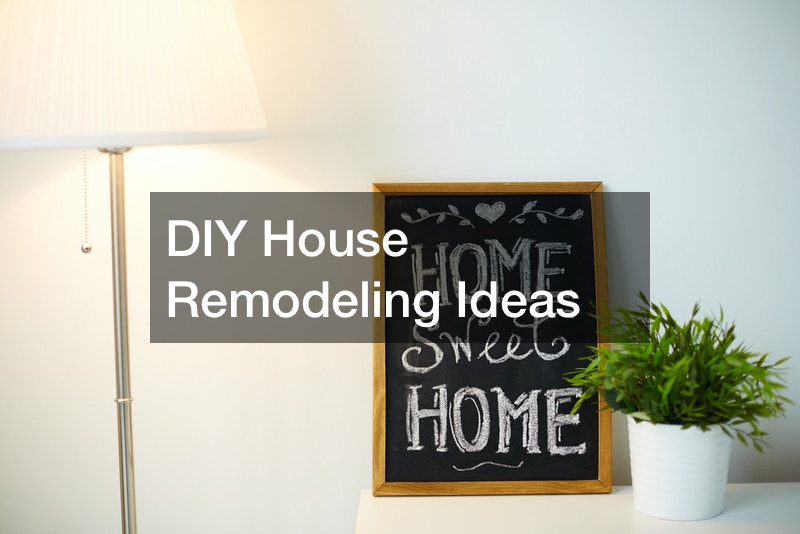 Giving your home a new look does not have to cost you a fortune or be too difficult. The options are endless, and if you do not have the necessary tools, you can rent them and in this way be able to DIY at home. You do not need to do a complete or total home remodel either. With small changes, which you can do yourself, your home will be appealing with the upgrades. If you want to consider DIY in your house, there are some excellent ideas to get started, and at the same time save money, giving your home a renewed and upgraded look. Today on YouTube, you can find everything you can think of about home repairs and DIY.
Renovate With Wallpaper
If you want to give the walls a new look, you can take advantage of the wallpaper. There are a wide variety of designs and options, so you will surely find one according to the space where you want to put it. When placing them, use a plumb line to draw a straight line so that the first strip is not crooked.
Old Tiles
If you have old times, instead of changing them, why not paint them? If your old tiles are still in good condition, you can use a special glaze for tiles. This works especially well in kitchens or bathrooms. You just have to clean them well with soap and water and scrape the joints to remove any dirt that may be there. Then you dry them well and apply the enamel, preferably with a roller.
Radiators Can Help With Decoration
When you have radiators in your home, instead of removing them, you can do two things: hide them or use them as decorations. To hide them, you should paint them the same color as the wall. To use them as ornaments that you can make them stand out, you can paint them in a different color or tone from the wall. To do this, wash the surface well with alcohol, and use fine sandpaper so that the paint sets better. If it has rust, you should brush it with a metal brush.
Renovate Old Furniture
If you have wooden furniture, you should seal any cracks with putty or natural wax, and clean them with a cloth dampened with mild soap and water. If they have some areas worn by use or eaten away by water, you can paint them. To do this, sand them down well and then apply an enamel paint in your preferred color.
Changing Switches
It is not always necessary to change the switches. You can save money by giving them a new look. You just have to carefully disassemble them, and separate the frame from the switch. Then you have two options: use a synthetic enamel of a color that you like, or you can cover them with an adhesive washable paper.
Upgrade Doors
You can save money by upgrading your doors. The doors of a house are like your business card. If they look old, rotten, or poorly painted; they will give a less than pleasing appearance. With just a little paint, you can give them a significant change. First, you have to disassemble them, clean them well, and sand them down with fine sandpaper. Later, repair any damage or cracks with putty and apply two or three coats of paint.
How to Build Your DIY Work Area At Home
If you want to set up your own DIY work area at home, there are four main things you have to keep in mind:
It is a good idea to insulate the walls. Nowadays, it is something quite cheap and quick to do.
Prepare your drains and supplies: You may need to make some modifications to your electrical installations and pre-existing drains. Of course, the need to do this or not will depend on the use that you are going to give the work area.
Plan the layout of the space: It is important to plan where everything will go, from the work table to the secondary elements. For this, you have to take into account both the safety, accessibility, regulations, and comfort when working.
Avoid disturbance: There are things like the elimination of waste or the smell and smoke generated by the machines that you will be using. You should also be mindful of the members of your household and neighbors. So avoid making too much noise with your tools. Installing smoke and odor extractors, as well as tools and elements for proper cleaning, is always a good idea.
Restoring the Bathroom
The bathroom is one of the most important rooms in the home and the one that quickly becomes obsolete. Are you thinking of renovating your bathroom because it is not very functional? Although it is always better to consult a professional, if you need an urgent renovation, but have a low budget, you can do things to the bathroom yourself.
The bathroom, no matter how much we take care of it, in the end, suffers from humidity, heat, and condensation. Some surfaces such as the bathroom cabinet, the shelves, or the quartz bathroom countertops may be damaged with the passage of time. Sometimes, with a small touch-up, the bathroom furniture can be transformed to enjoy its use again as well as giving it a change in style.
Restoring bathroom cabinets is one of the easiest transformations to make. You can take advantage of and change the style of the decoration of your bathroom or give it a renewed look. Before starting, you must take into account what material the bathroom cabinets are made of, and what is the finish, whether wood or melamine? Is the bathroom cabinet lacquered or painted? If the surfaces are different, each one must be treated in a special way.
Once you have decided what type of renovation you will carry out, start the renovation with these simple tricks.
Vacate the bathroom
Give it a coat of paint
Change toilets
Change in light
Expand the space
Remodeling or changing the furniture
Decorative touches
Change the flooring to ceramic tile floors
Be original and give it a different finish, with textures or with patterns using templates or patterned rollers. Test your imagination by combining colors. The painting chalk is perfect for reforming a bathroom cabinet with Nordic style. However, with the breadth of its color chart and finishes, this type of paint combines both in an industrial bathroom with a modern style and in a shabby chic bathroom decoration with a rustic look.
Enamel Cabinet
Another type of paint that you can use to transform the bathroom cabinets is a water-based enamel. More resistant to being specific for bathroom and kitchen surfaces, it allows you a gloss or matte finish. The procedure for painting with water-based enamel is similar to any painting. First, it is necessary to correct any defects that the furniture may have in order to prepare it. A gloss finish offers a modern style for a youth bathroom. If instead, you want to provide a more romantic style, try the matte finish. Complete the decoration with some shower curtains that match the color of the furniture and take the opportunity to decorate the bathroom with fun towels. If you are changing your cabinets, you may want to call on an interior building products service to help you choose the right style.
The Shower
By changing the shower door, you will give a new look to your bathroom. If you have a small space, this folding option is perfect. You will save space, and it is easy to clean and install. If you prefer a curtain, you should choose a cute and modern option. Remember that simple designs and light colors are in fashion. If you are looking for a luxury shower, then you could consider hiring local shower remodeling services.
Window Installation
Window installation can be a big decision for a home. Therefore, the choice of components and materials cannot be left to chance. Take into account aspects such as the lifestyle of a family, the budget, the desired design, and the overall design of the rest of the space, the maintenance that you want to make, or their level of energy efficiency. Below are several steps to follow to change windows at home:
Get a pencil and paper. The first thing you should do before venturing to change all the windows is to take a pencil and paper to jot down measurements in order not to make mistakes. Measuring several times, as well as taking the measurement of the diagonal, will also protect you from making mistakes, especially in the face of possible mismatches.
In this step, you must decide if you want wooden, aluminum, or PVC windows. For example, wooden windows will give a high aesthetic level, very suitable especially for rural-type spaces; however, wooden windows do not have the same level of insulation or low maintenance as PVC windows. These, on the contrary, are very easy to maintain and have great insulating potential. Make sure you give the frames a precision metal finishing.
Aluminum or PVC: Aluminum, for its part, is the material that has been used the most for some home windows, but its level of insulation does not exceed its resistance to inclement weather, thus raising awareness of the importance of saving energy by replacing these aluminum windows with PVC ones. The nature of aluminum makes it a conductive type material, which is why it absorbs the temperature that exists outside quite easily, taking it inside the house, and making the cost of heating or air conditioning necessary.
Glass quality: If the type of frame a window has is essential, the quality of the glass used is no less so. In addition, it is very important that the quality of both components is on par. Otherwise, the entire window could lose efficiency. You can choose between monolithic glass (somewhat obsolete), laminated (quite safe), tempered (highly resistant), float (the most common), matte (elegant and bright), low-emissivity (efficient), or double glazing (greater insulation capacity).
Types of window opening: You should take into account what type of opening will be more practical and comfortable for your family's lifestyle. The options are quite numerous: fixed opening (they cannot be opened); swing (light opening only at the top or bottom, typical of offices); tilt and turn (lateral and inclined opening); slide (horizontal scrolling); tilt-and-go (inclined opening and horizontal movement); pivoting (it rotates around an axis, common in dormers) or combined (admits different types of opening).
Electrical Wiring
The components and materials for an electrical installation or residential wiring are:
Electric meter: This allows establishing the electrical services of the home or businesses and is located outside the place for verification, by the company, which supplies and is in charge of the industrial and residential electrical installation.
General switch: You need a general switch, to connect and disconnect the electricity. This switch is located in the connection line or inlet of the electrical energy to the house, to activate it if necessary.
The main panel: Install the main panel inside the house in a place close to its entrance. It regulates the entry of electrical energy into the house and also has a power cutoff device, if necessary.
Important: The independent circuits come out of the board to feed the different electrical points of the house. Once the mainboard is installed, according to the established standards, it can be connected, upon request, to the national electricity grid. For this reason, these components must comply with strict manufacturing standards, which allow them to function safely. Most home builders have to make sure this is done upon completing their construction. It is important to hire a professional to do any electrical wiring in the home because this can be quite risky.
Conclusion
While you can do a lot of home remodeling improvements on your own, there are some that you should not try to attempt. You should contact a professional with experience, knowledge, and expertise to do it better. This will probably cost you less in the long run.