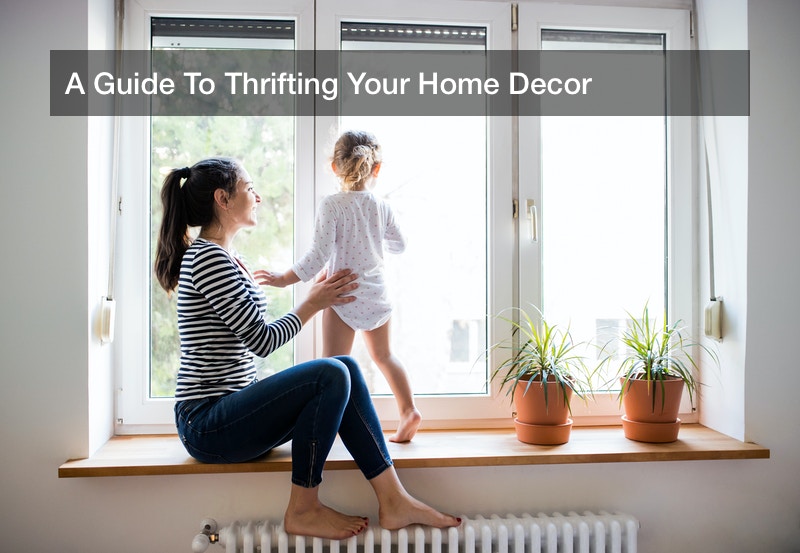 Summer is the time when homeowners are more likely to take on home renovations and remodels. With that comes a need to find new decor for your home. But if you just spent a lot of money renovating your space, you may not have a large budget left for decor. Or maybe you're just in need of some fun things to do this weekend. That's where thrifting comes in. Thrifting home decor is a great way to find beautiful decor and fill your space without completely clearing out your wallet. Whether you're a beginner to thrifting or are a thrifting pro, here is a guide with some tips and tricks you can apply to score some awesome thrift store finds.
Benefits Of Thrifting
There are quite a few benefits that come with thrifting that you may be unaware of. Besides saving money, making the choice to thrift home decor can have a big impact. Here are some of the benefits that come with scoring those awesome thrift store finds:
You'll Save Money: This is the most well known benefit of thrifting. The rush of finding awesome thrift store finds for great deals is enough to get people going back over and over. Thrifting your home decor will save you a lot of money which means you can save for a big piece item or spend more on your home renovation.
Reusing And Recycling Is Better For The Environment: Thrifting is not only great for your wallet, is good for the environment. Choosing to purchase items that have already been loved by another owner means you are keeping plastic out of landfills. Taking home awesome thrift store finds also positively contributes to decreasing textile demand around the world and cutting down on the subsequent waste.
You'll Find Unique Items: Another great benefit from scoring awesome thrift store finds is that you're finding a unique item for your home decor. If you were to purchase an item from a major retail store, that same item would be found in hundreds, maybe even thousands of homes across the country. When you buy an item from a thrift store, you're getting something unique for your space. For example, if you're getting ready for fall decorating, you could find vintage baskets and signs from a thrift store that no one else will have in their home decor this season.
1. Check the Quality
The number one thing you need to remember when you're thrifting is to check the quality. Oftentimes people make the mistake of getting an item that really isn't in good shape or that they don't need just because it's a good deal. You're going to see a lot of awesome thrift store finds, but not all of them are things you need. As you are searching through items at the thrift store, be picky. Look for signs of wear and tear. Is it something you actually need, or just something you want? Often, you buy something with the intent to "upcycle" it. There are a lot of items sitting in garages and attics across the country that were purchased with the intent to be upcycled.
For example, if you're looking for a table or chairs, you're going to have to be very picky. There is a lot of wooden furniture at thrift stores but it's not always in good quality or a good deal. Check for water stains, cracked wood, and any other significant signs of wear. To take something home, you need to be confident that it's going to hold up for some time to come.
2. Think Outside The Box
While you need to be picky when sorting through items at the thrift store, you also need to have an open mind. You may not always find exactly what you're looking for, but you may find an item that will work for the same purpose. For example, one popular "outside the box" use for old doors or windows is to create a greenhouse in your backyard. Especially if you can find french doors, you can use an unlikely item to create a beautiful new thing.
You may also be able to use old metal containers for planters or flat baskets for wall decor. Keep an open mind as you search for the specific items you need. But remember to keep in mind the previous tip, be picky with what you choose, and unless you are specifically planning to upcycle an item, don't get things that "have potential".
3. Haggle
This tip should only be used at specific locations. Haggling can really help you to get a more reasonable price on some big scale or even small items, depending on where you're shopping. But you should not try to haggle at stores with set prices, such as the Goodwill or Salvation Army. Rather, if you're at a flea market or yard sale, haggling is more acceptable and maybe even expected. Here are a few tips for successful haggling:
Don't dress is designer or high-quality clothes. If you look "rich" people won't want to offer a discount.
Be friendly with the seller. Say hello when you get to their booth. The nicer you are, the more likely they are to work with you on the price.
Don't low ball the seller. If you start with a price that's way too low, they will shut down and won't want to discuss anymore or be flexible.
Point out flaws you may find. If you show the seller a scratch or dent in an item, they may be more likely to offer you a discount.
As you search for new home additions for your decor, don't forget to use these haggling tips and get the best price possible.
4. Leave Pride At The Door
If you're planning on thrifting, you'll need to leave your pride at the door. Buying used items doesn't mean you're poor or can't afford brand name, new items. It just means you know how to be frugal and where to save money. Some people that try to thrift decor for their public spaces, like their desks in an office, fall victim to the office culture that new is better. As long as you follow the tips listed here, you'll be able to find great quality items for a great price. No need to feel embarrassed about it.
5. Visit The Store Often
If you want to come across some awesome thrift store finds, be ready to visit the thrift store often. Most people donate items on the weekends when they have time to make a trip there. Different stores restock on different days and times, some once a week, some multiple times a week. You may think about asking the thrift store employees what days and times they bring out new items. If you know the restocking schedule you'll be able to plan to visit the store those days and times so you can be one of the first people to look through the new times.
6. Take Advantage Of Sales
While you're already getting a great deal by shopping for items at a thrift store, don't pass up on the opportunity to shop the thrift store sales. Many thrift stores have big sales on specific holidays each year where you can save a huge percentage on certain types of items, or even any item in the store. While there will likely be a lot more people in the store on those days, don't pass up on the opportunity.
Your local thrift store may also have weekly sales where items with certain colored tags are on sale. Figure out what the sale schedule is for your local store so you can plan to be there at those times. Some chain thrift stores like the Goodwill of the Salvation Army even have days each week where certain colored tags are 50% off. If you're trying to decorate a room or even finishing a basement, take advantage of these sales days to stock up on furniture and home decor.
7. Don't Forget About Virtual Thrifting
According to Business Insider, 40% of men between 18 and 34 years of age prefer to shop online for all of their needs, and the percentage from women is likely higher. Shopping online is much easier for people as they can browse and order things directly from the comfort of their couch. Don't forget to take advantage of online thrifting opportunities. These include sites such as Facebook marketplace, craigslist, and OfferUp.
Physical locations may be better for shopping for small decor items and clothing as you can try on and dig through more options, but for getting more expensive or big-ticket items such as large furniture, or electronics like printer products, these sources are a great option. You can often set notifications if you are looking or a specific type of item. For example, if you're trying to find a mid-century modern sofa, anytime someone posts one for sale, you can be notified right away so you have a better chance of scoring it.
You can sometimes even buy lightly-used items from stores on amazon which is a great option if you don't have transportation and need to have things shipped to your home.
8. Be Willing to Dig
When you go on a thrifting trip, be ready to dig. Many thrifters have discovered awesome thrift store finds just by sorting through a pile of knick-knacks. Sometimes people will hide something they found with the intent to come back later to get it and then never return. That means a great item is hidden in a section it doesn't belong in and if you're patient enough you may be the one to rediscover it.
For example, if you're searching for camping gear such as soft side coolers, cots, or camping utensils, someone may have previously had the same intentions, found something great, and hid it. An employee of the thrift store may even have placed it in the wrong section. Take some time to sort through items in other sections to make sure you're not missing any awesome thrift store finds.
9. Look For Brand Names
When you're thrifting, another key to success is to look out for brand name items. Even if it's not something you were specifically looking for yourself if it's a good brand and in good shape, you could flip the item for a significant chunk of money. Some people even make a business of flipping brand name items from thrift stores. You may even discover some awesome thrift store finds for yourself. Brand name items often tend to last longer so if you can find some good quality brand name furniture or decor for your home, you've scored.
10. Go With Ideas In Mind
One of the best things you can do when you're planning a thrifting trip is prepare ahead. This could be making a list of the specific things you will be looking for. You could also use pictures for inspiration for types of items you'll keep an eye out for. Just like making a grocery list, thrifting is more successful when you can keep an eye on the target. There are so many little knick-knacks and awesome thrift store finds, you can get off track very quickly. By having a list of ideas ahead of time, you'll be able to more effectively sort through everything and find what you're looking for.
In Conclusion
If you're in need of home decor for a newly renovated home or just want to switch things up, thrifting is the best way to get bang for your buck. As long as you are ready to be picky about what you bring home, spend some time digging, and thing outside the box, you're likely to score some awesome thrift store finds. Don't forget to apply the other tips mentioned above on your next thrifting trip. Happy thrifting!